Stranded in Ouarzazate
3 days after Eid-al-Adha
Ouarzazate is located beteen the Atlas and Anti-Atlas Mountains. It's the gateway to Merzouga and the Sahara-Desert. The region offers many beautiful landscapes and ancient Kashbah's, making it a popular filming location. Lawrence of Arabia, Gladiator, The Mummy Returns, Hercules and Batman vs Superman are one of the many movies that have been shot in the area. Oh and let's not forget about Game of Thrones!
All this led us to Ourzazate as our first destination on our summer backpacking trip trough Morocco.
Ouarzazate is roughly 200km and a 4h drive away from Marrakech. So first we investigated the possible options on how to travel from Marrakech to Ouarzazate.
The easiest option is to take a day-trip from Marrakech to Ouarzazate. However this isn't particularly cheap and wouldn't give us the freedom we need.
Since we were in Marrakech during Eid-al-Adha, we weren't able to figure out if there were Grand Taxi's driving to Ouarzazate and how much it would cost.
What we found the best option to travel from Marrakech to Ouarzazate was the CTM bus line.  At the CTM bus stop in Marrakech we booked a ticket for the next day which was quite affordable. The busses are quite modern with airco and usb chargers for every seat.
Our bus driver clearly wasn't afraid to push the pedal on the curvy roads trough the atlas mountains. Halfway our ride the bus made a short stop at a small town so people could get something to eat / drink or go to the bathroom.
Impressed by the beautiful scenery during our long bus drive, we arrived in Ouarzazate around right before sunset. Before our departure in Marrakech we already booked a hotel, so we didn't have to search around for accommodation.
The central marketplace was crowded with many kids riding around on electric toy cars. It was a pleasant surprise to hear a traditionally dressed Moroccan speak perfectly dutch with his kids. We got into a small talk and kindly invited us to his home, which we had to refuse since we already had a booking. However we got his number which later turned out quite helpful.
Most restaurants on the marketplace were closed except for one. The young Moroccan girl who served us could only offer us some spaghetti, since there hadn't been any supplies in 3 days due to Eid-al-Adha.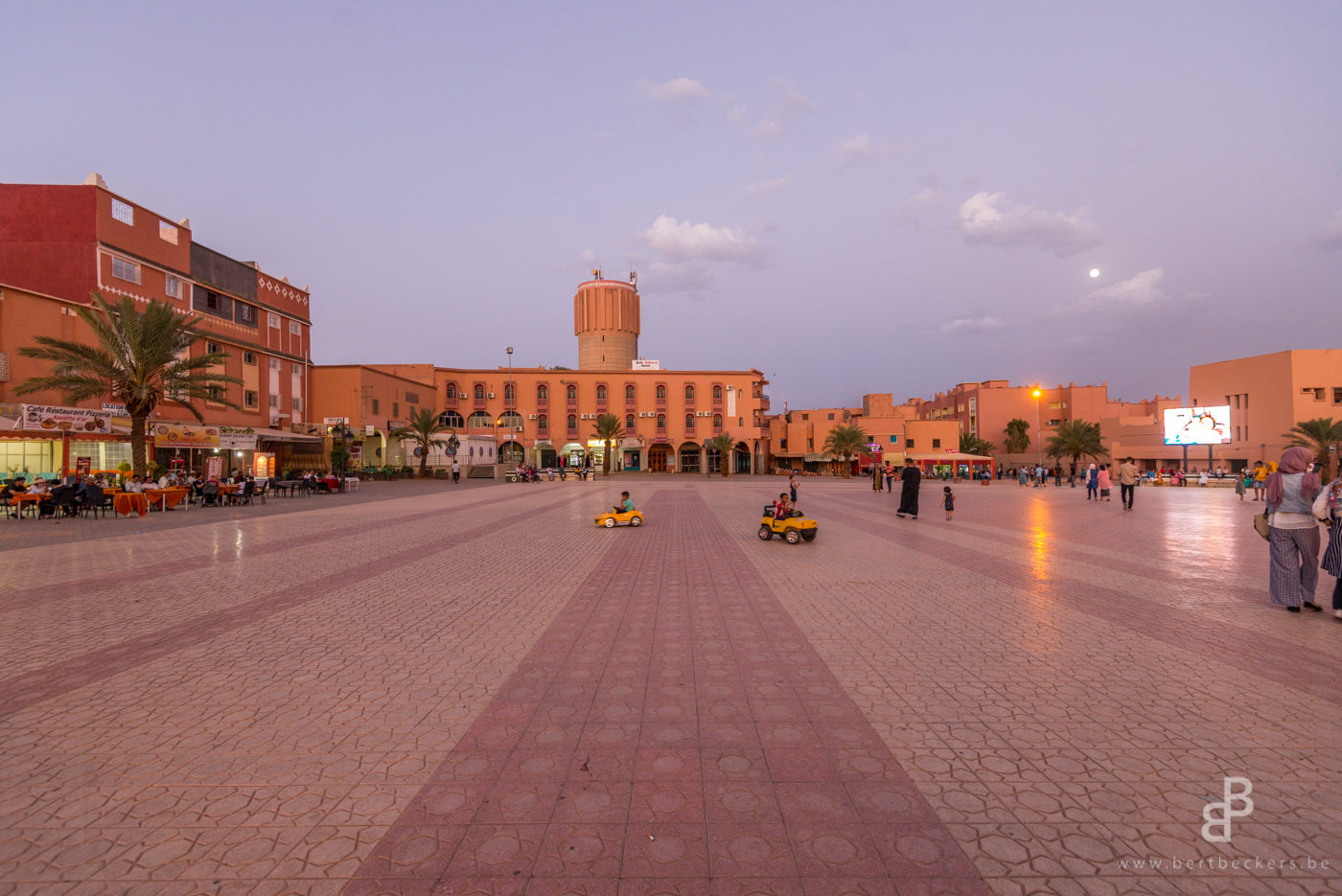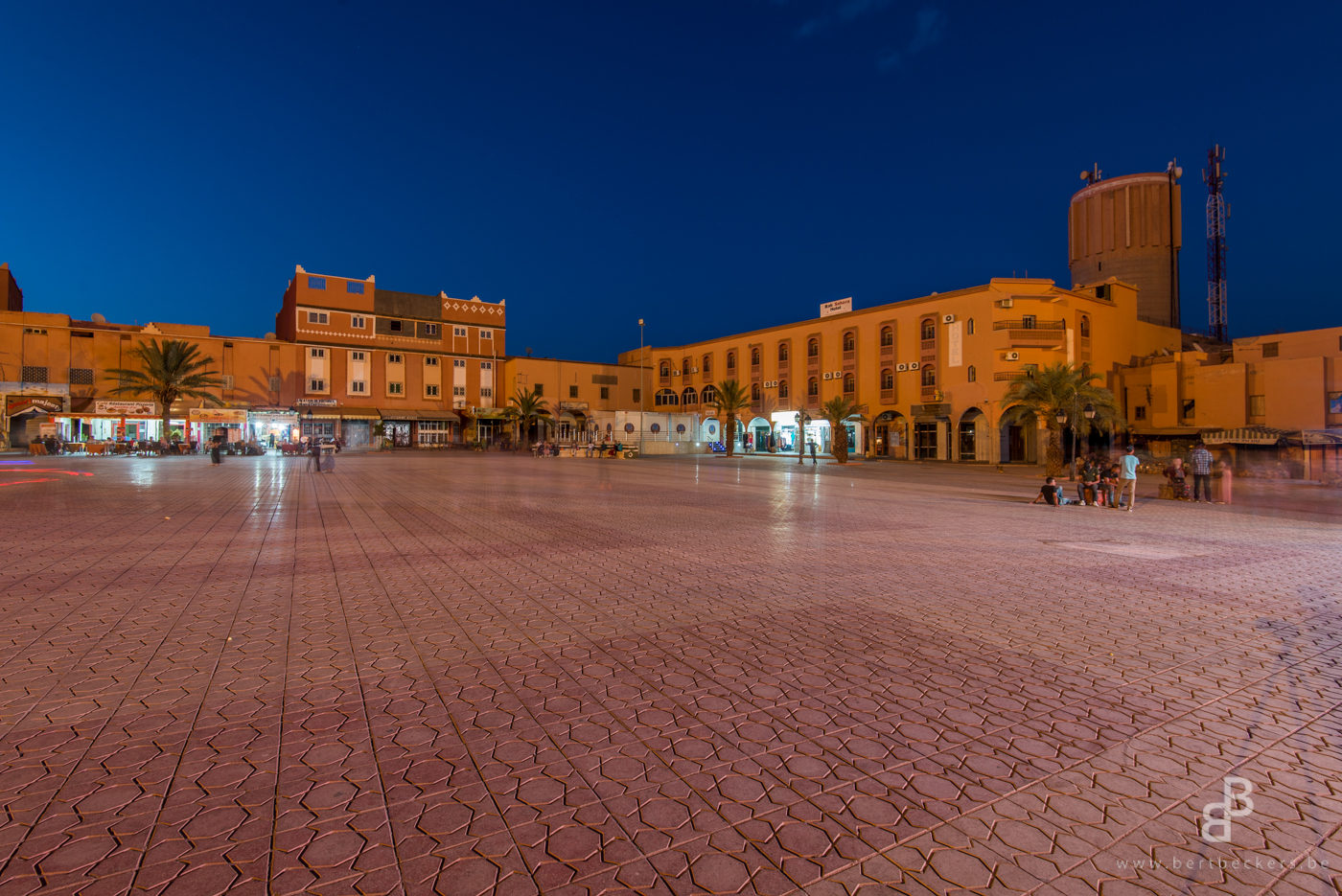 During the next day we realized that most restaurants and shops were still closed in Ouarzazate and there wasn't much going on. We even had problems withdrawing money from our bank accounts since most ATM's haven't been filled up in a few days.
Whilst I was playing some poi and we were filming it on my gopro, we attracted the attention of the tourist police. 2 undercover guy's came check on us what we were doing and informed us about what we could film and couldn't film. Although we obviously weren't doing anything wrong, they still took pictures of our passports.
Summer temperatures in Ourzazate can easily hit 40°C so we were more then happy our hotel had a fantastic pool where we could spend most of the day. Around the evening we headed out on a quest for dinner. At Kasbah Taourirt we pleasantly ended up at a big local summer festival.
The following day we were eager to visit one of the many Kasbah's outside town. Struggling to find a taxi who could take us to Kashbah Ait-Ben-Haddou for a reasonable price, we settled for a bus ride to Kashbah Tifoultoute instead. As we were waiting for the bus, one of the Tourist Police Officers stopped at the busstop, asking if they could give us a ride, but unfortunately we were heading the other direction.
Upon arrival at the Kasbah, we got greeted by a guide who was surprised to see us there, as they were cleaning up from a big wedding the local day. Since we were there anyway he showed us around. Apparently we had chosen a bad time to visit, but at least we enjoyed the beautiful from from the Kasbah.
Yet another day later we started feeling stranded in Ouarzazate and started planning the rest of our backpacking journey through Morocco.
We couldn't find a bus or Grand Taxi that was willing to take us out of Ouarzazate for a reasonable price and felt that it would become even more difficult to travel up the Atlas Mountains. So we texted a few of the locals we had met during our stay and asked for their advice.
Eventually we decided not to waste any more time and decided to rent a car. So we took the CTM bus back to Marrakech, where we instantly rented a car and turned this backpacking trip into a road trip through Morocco.
Although things didn't turned out as we hoped, we actually had a great stay in Ouarzazate. The people were overly friendly and helpful and I would love to go back one day to visit the beautiful Kasbah's and wander deeper into the Atlas Mountains.