Marrakech in January
Escaping winter in Morocco
When I visited Marrakech the first time in August 2018, it was over 40°C during Eid-al-Adha. Most of the shops in the medina were closed, including the souks. We got to experience a completely different Marrakech, during one of the biggest Muslim holidays. 2 weeks later I was impressed with the crowded atmosphere around the famous place Jemaa el Fna.  Now, almost 2 years later I return once again to Marrakech, this time in January, whilst escaping winter in Belgium.
Marrakech in winter feels less crowded and touristy then Marrakech during Summer. This reflects mainly in the evening at Place Jemaa el Fna, where during my second visit in August 2018 it was madly crowded in the evening hours until after midnight, whilst now in January it was still busy, but not as overwhelming as during summer. So if you don't like the heath and how busy it can get, it's well worth considering visiting Marrakech during winter.
The picture on the left is the nearly empty place jemaa el fna around noon, the day after Eid-al-Adha. The image on the right is on a regular January weekday. The difference is notable, yet it's not as busy and crowded as during tourist season!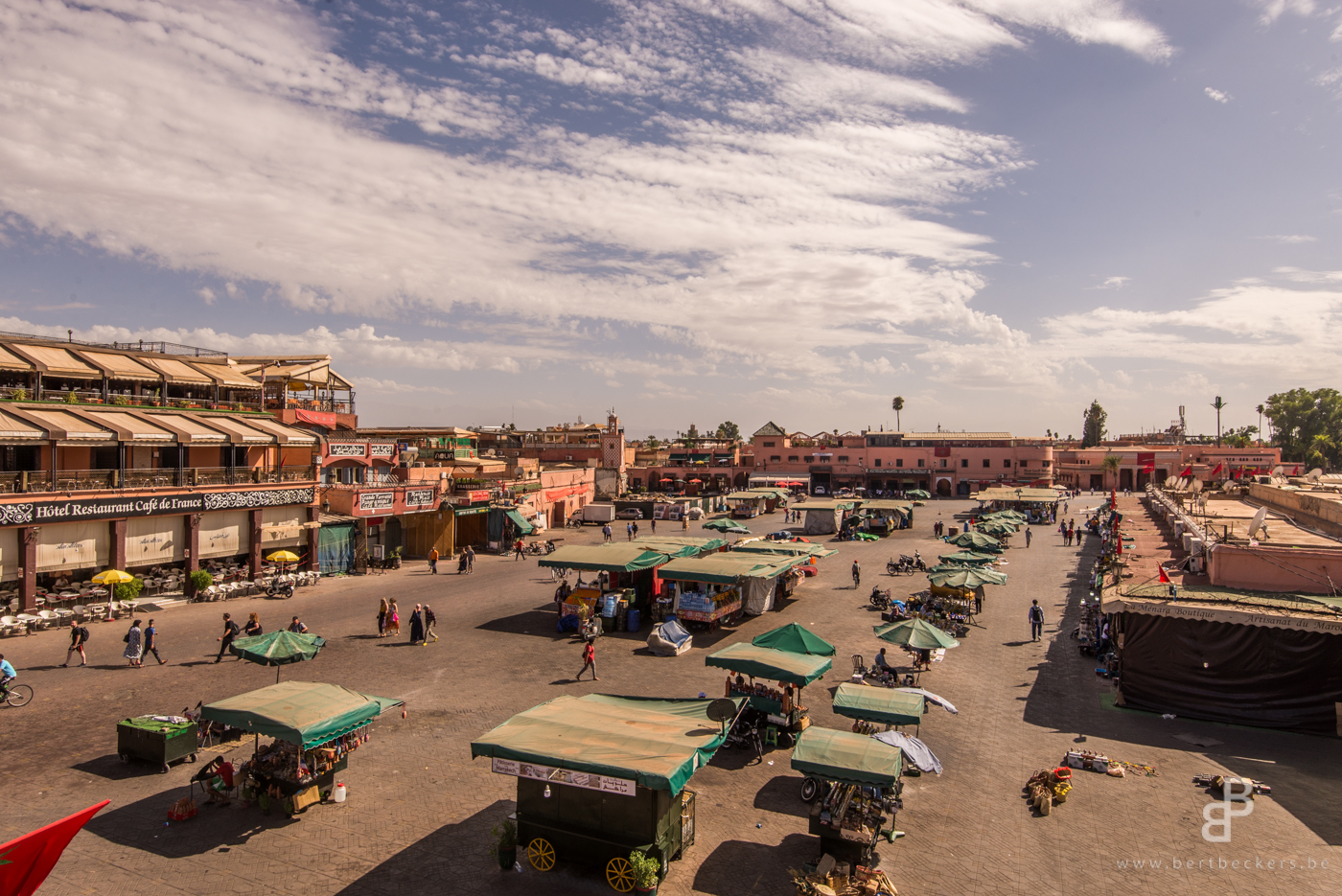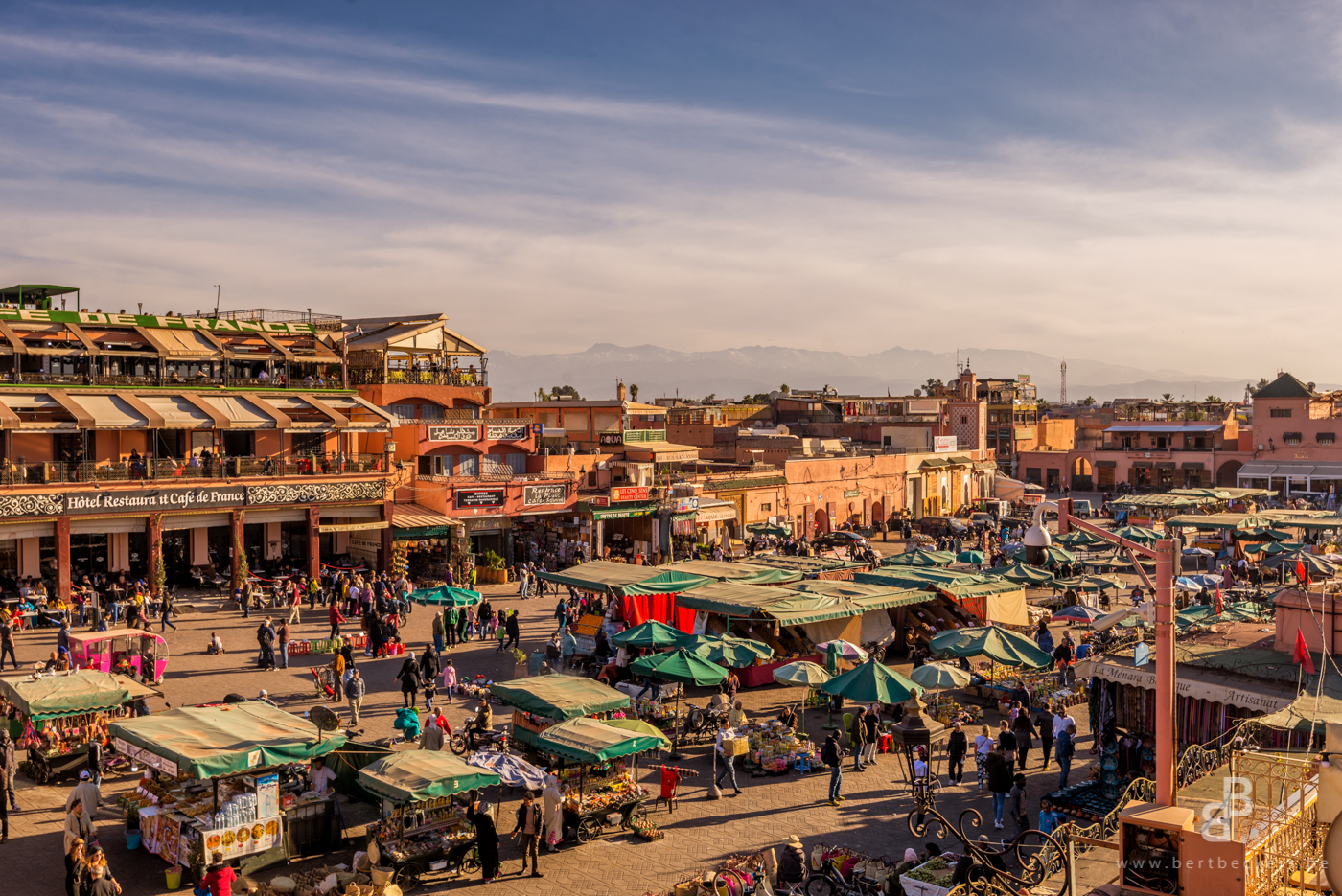 January temperatures in Marrakech are mild. We had 3 days of cloudless skies with temperatures ranging up to 20°C during the day and down to 5°C during the night. So don't forget your warm sweaters and winterjacket, because you will need it. As soon as the sun goes down, temperature also goes down quickly in the medina, as it's mainly designed to withstand the summer heath. Most houses and cheap accommodation in the medina don't have heating. But Moroccan's don't like the cold neither, so there are plenty warm blankets available.
Marrakech can be really overwhelming when you visit it for the first time. The people can be rather pushy, you constantly have to negotiate prices and you have to watch out for the clever ways they find to scam you. But if you know what to expect, it's quite easy to go with the flow. Speaking french is also a big advantage in many situations. And if you've been there before, you know how to handle the people and how to avoid the scams.
Sipping mint tea at one of the rooftop cafés at Place Jemaa el Fna is my favorite thing to do in Marrakech, winter or summer.
The best way to spend your time in Marrakech is to explore the medina. Believe me, you don't need any guide for that. Simple use Maps.me or google offline maps to find your way true this maze. Expect to get lost anyway, but watch out who you ask directions for or you'll end up with a false guide. Anybody is prepared to show you directions, some even unwanted, but they all end up asking money afterwards. If you do need directions, ask someone who owns a shop, or instantly tell them you need directions and don't plan to pay for it.
Initially I was scared to get bored to visit Marrakech for the 3rd time for 2 complete days. But this turned out surprisingly well as I got to see and explore a whole different part of the medina then previous times. But I don't see the need to go there a 4rd time. This was only a short stop for the main destination of this winter trip to Morocco; Essaouira.
Whilst enjoying the local life in the Medina I noticed that prices for food in Marrakech have up a bit in those 2 years. At the major locations you easily pay 8 euro's for the cheapest Tajine. Not only prices have gone up, but portions also seem to have shrunken down. Other places still serve affordable and normal portions, but it isn't as cheap as it used to be. This being said, the tajines are still as delicious as ever and during this winter trip in Morocco I succeeded to literally try every kind of tajine I saw on the menu.