This charming coastal town is located less then 3h from Marrakech. It's a popular destination for backpackers and surfers to catch the waves or come there to relax and catch the vibes of this place. Many tourist visit Essaouira on a day trip from Marrakech, but we choose to take the CTM Bus to Essaouira and stay there for a couple of nights.
What makes Essaouira one of the best backpacking destinations in Morocco you might wonder? Since the 70's surfers and artists came here to catch the waves and relax. Cat Stevens and Jim Morrisson are one of the big names that spend some time in Essaouira. These influences are still visible, mainly through all the art and music shops around town.
Mogador
Essaouira was formerly known as Mogador. The little city originated out of a trading post from 5 A.D. along the west-coast of Africa. In 1510 the Portugese took controlled the place and ordered to build a fortress here and occupied the bay of Essaouira for 30 years. Later several other countries tried to conquer Essaouira without succes. The current city of Essaouira was build during the mid-eighteenth century by the Moroccan king. The name Essaouira literally means something like"Beautifully Walled City". The medina was build and designed by French architect Théodore Cornut and took about 10 years to build.
Essaouira Harbor
The Essaouira fishing Harbor was Morocco's main fishing harbor until the 19th century. Upon today it's still an important fishing harbor
I really enjoyed my time wandering around here and watching all the activity around.
Apart from the big boats, there are still plenty of small blue fishing boats being used. It's no doubt one of the most popular Instagram photo locations in Essaouira.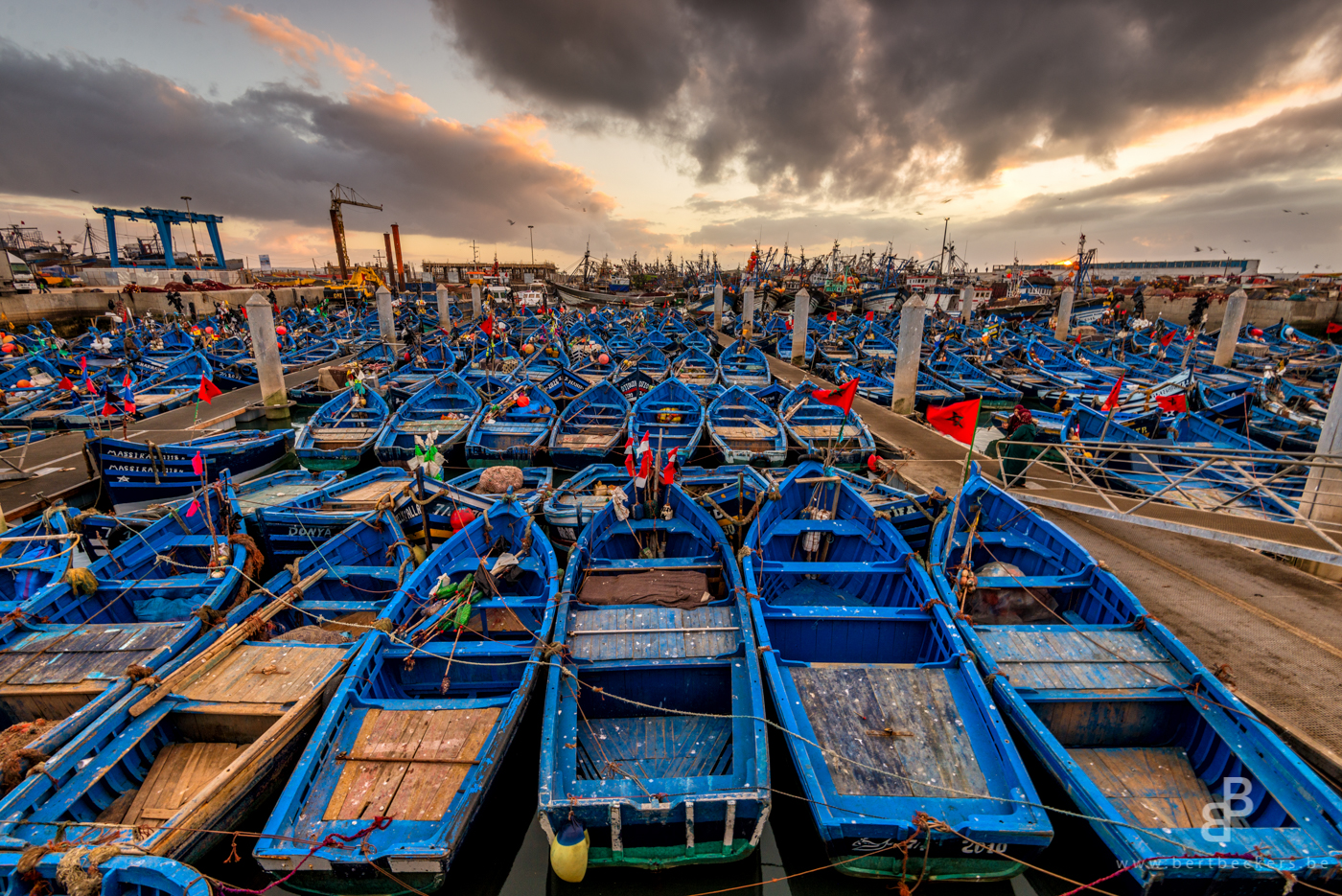 Practical Information:
We stayed 4 nights at Atlantic Hostel and totally loved it. It's a cheap hostel located in an old building with lots of graffiti on the walls. The accommodation is basic and cheap, but it was clean. You get what you pay for. What we liked most about this hostel and convinced us to stay 3 nights longer then planned are the great vibes at this place. The staff is super friendly and the hostel is packed with backpackers from all over the world who come together on the rooftop bar that offers a great panoramic view over the old medina.