Roadtrip to Slovenia
From Holland to Slovenia and Back
In September, Samana and I hit the road for a week-long road trip from Holland to Slovenia and back.
A few weeks in advance we planned this trip by setting a date and choosing a destination country, but that was literally all we had planned.
After loading up Sam's car with our camping gear , we decided to head towards München and figure out there where to go. During this trip we really lived from day to day and often arrived in the dark at closed campsites.
After our first day of driving we ended up south-east of Munich in a lovely town named Füssen, close to the German-Austrian border. It was already past 9pm and quite dark when we entered the campsite. The reception was already closed, but we choose a spot on the campsite anyway and paid for it the next morning.
The camping was located next to the Hopfensee, a lovely lake with the alp mountains in the background. We couldn't resist making a quick stop at the lake first before searching breakfast.
The reason why we spend the night in Füssen was because we wanted to see the Neuschwanstein castle. This beautiful 19th century castle is probably one of Germany's most popular tourist attractions. We came to learn that sunday isn't the best day to visit this castle and the best viewpoint can't be reached without paying overpriced parking fees, so we decided to continue our journey instead. But not without taking a quick shot of the castle from down the road.
Neuschwanstein was just a stop and go, so we headed on to the next location in the area: Highline 179, only 22km away across the Austrian border. Unfortunately the road to there was one big traffic jam, with lots of sunday tourists out to enjoy the beautiful weather.
Highline 179 is a tibetian pedestrian bridge spanning over a total lenght of 406m. It connects Burg Ehrenberg and Fort Claudia over and altitude of 114m. It was opened only a few years ago. There is a elevator heading to the top or you can just take a 30m hike up there. We were short on time, so we chose the easy (expensive way). Tickets for the elevator + highline cost 16€ each.
After our visit we drove until late in the evening up north where we ended up at a small farm campground near the Seehamer See.
Monday we drove all day towards Bled, our first destination in Slovenia. Again we arrived during the evening at the local campground. Once we had set up our tents and had dinner we decided to go for an evening walk around the lake.
In the early morning I woke up to take some pictures of the sunrise at the lake, but wasn't happy with the light. Around noon we enjoyed the last summer temperatures of the year and even went for a swim in the lake before heading of to our next destination.
Mostnica Gorge and Voje Valley
From Bled we headed to Bohinj, where we could go on a hike through the Mostnica Gorge. This beautiful gorge is about 2 km's long and offers some beautiful potholes and carved out rock formations. Most of Slovenia's national parcs are protected and a small entrance fee is asked in order to enter the park. However this fee is totally worth it to help the country preserve and protect her national beauties.
From the end of the Mostnica Gorge you can continue your hike through the Voje valley up to the Voje waterfall. In all our enthusiasm we clearly underestimated the length of this total hike and how fast in gets dark in September in the mountains. So we ended up walking back to the car in total darkness.
The total lengt of the hike is about 12,5 km and normally takes about 3,5 hours. At least if you don't stop everywhere to take pictures and take a break near the waterfall.
Again, late in the evening we arrived at a closed campsite, this time Camp Danika, known for the infamous Winter Metal Days event. The next day we stayed in Bohinj and made another hike to the Savica waterfall. For the first time during our trip it was raining and that autumn feeling really kicked in. I didn't take any pictures during the hike, but that doesn't mean it wasn't a great hike. Our endgoal was totally worth the picture though!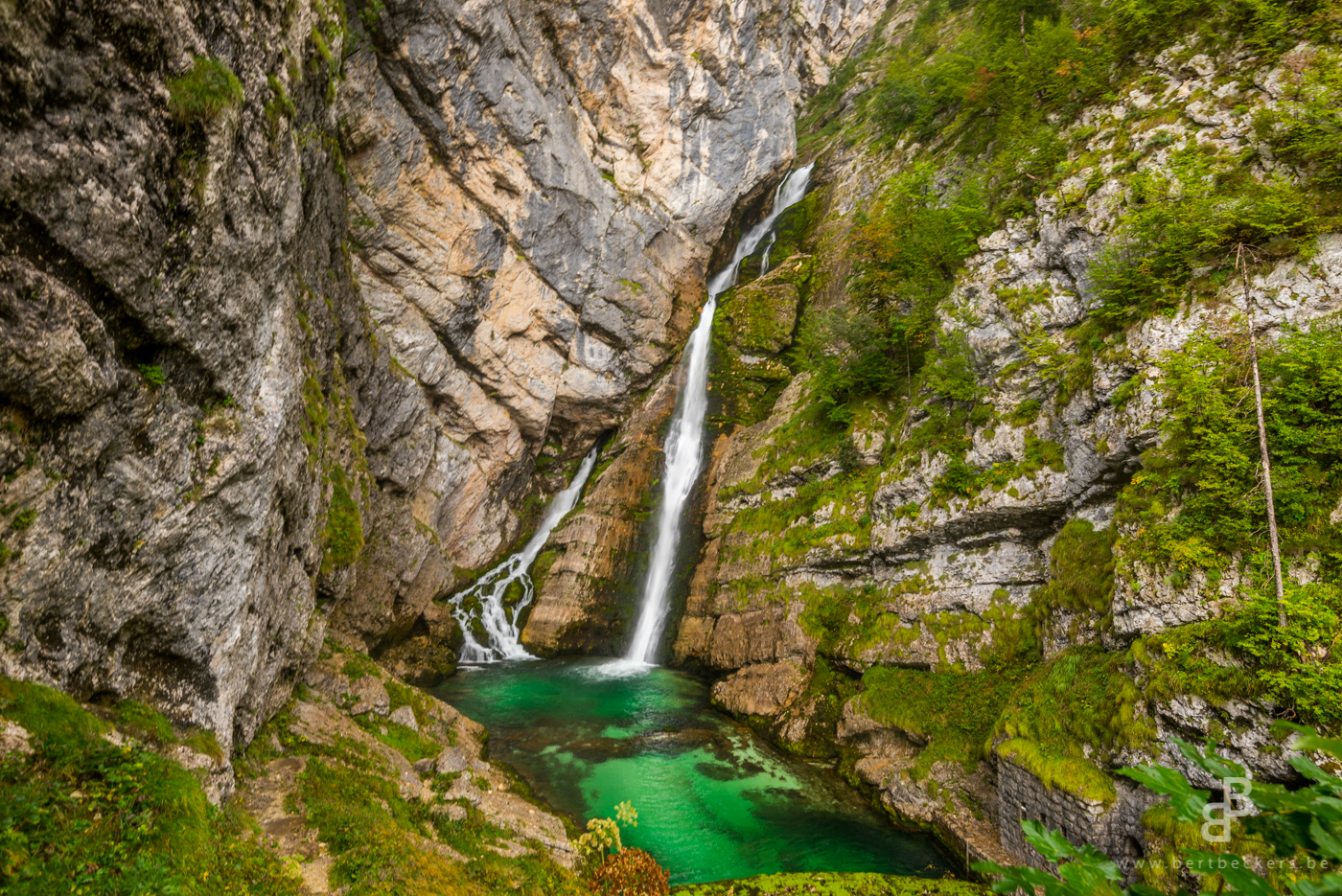 With only a few days left we decided to head back to Bled to our previous campsite and explore the famous Vintgar gorge. This is probably one of Slovenia's most beautiful gorges and therefore also a popular travel destination. The entrance fee is quite pricey compared with the other parks we visited, but still worth it. It can be pretty crowded but somehow I managed to get a few shots without any other visitors in frame.
For our last night in Slovenia we headed towards Mojstrana, hometown of the Slovenian Alpine Museum.
No we didn't plan to visit the museum, although it would have been quite interesting. We were there to climb the new via ferrata trail that opened only a few years ago. There are 2 routes, a blue route graded B-level and a red route graded C-level with certain passages of D-level. Since this wasn't the first time for us, we choose for the red route, which was surprisingly challenging at some points.
I didn't bring my dslr with me so all pictures were shot with the Gopro.
Video: Roadtrip to Slovenia in 2 minutes
Below you can find a short 2 minute aftermovie of our roadtrip to Slovenia, filmed with my GoPro.