Chefchaouen
The Blue City
Chefchaouen is becoming one of Morocco's most popular travel destinations and I can see why. The famous blue city was high on my list of places to visit in Morocco and after visiting it one of my favorite places I've visited to far. We traveled to Chefchaouen by car, but there are also local busses driving to Chefchaouen from Fez and Tangier.
The city was founded in 1471 as a base for the Berber tribes living in the Riff mountains. With the arrival of Muslim and Jewish refugees the city expanded and the old medina was build around the Kashbah. Untill 1920 the city remained isolated, before it became occupied by the Spanish troops. During the second world war, many Jewish people fleed from Europe to Chefchaouen. Most of them only remained there for a few years and moved to Israel after. The Spanish left Chefchaouen in 1954, but upon today you can still find many spanish influences around Chefchaouen.
Almost the entire city is colored blue. It has been this way for almost 100 years, but nobody knows exactly why. There are many stories about it and one of the most common is that it's a religious tradition that was started by the early Jews who resided in Chefchaouen. During the 19th century more and more people starting painting their houses blue. Some people say it helps to fight off mosquito's in town, others say it helps against the heat during the hot summer months. Critics could argue it might be just for tourism, but for whatever reason people are continuing to paint their house blue in Chefchaoun, the calming effect of blue definitely  add to the laidback atmosphere all over Chaouen.
Go shopping for souvenirs
The old medina of Chefchaouen consists out of lovely colorful narrow streets, with lots of shops offering their goods. If you want to buy souvenirs in Morocco, this is a good place to do so! The shop owners are generally much less pushy then in big cities like Fez and Marrakech. However prices can sometimes be a bit higher then in other places. Around the marketplace near the Kasbah you'll find many restaurants that offer great food.
The video below shows a 5 minute walk from our riad to the marketplace, through one of the main streets, filled with shops.
The heart of the colorful Chefchaouen medina seemed to be Plaza Uta el-Hammam. It's filled with many cafés and restaurants were we consumed most of our meals during our stay. During the evening it's a gathering place for many people. Street-Musicians were performing in the streets whilst others enjoyed the evening in one of the many cafés. We met some very cool and interesting people ranging from local hippies, berbers and world travelers.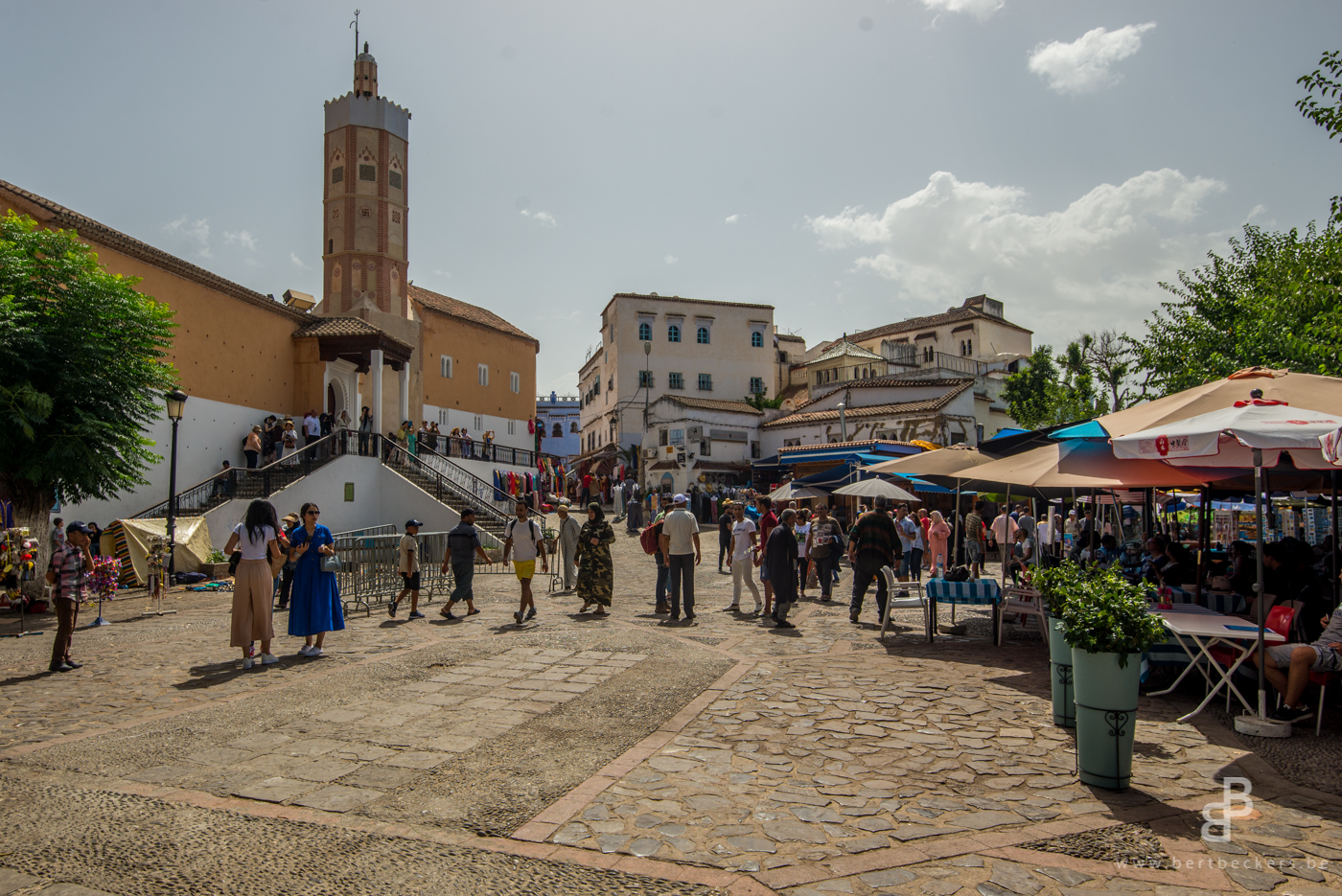 Whilst traveling through Morocco the number of stray cats we encountered surprised me. It was great to see how many people took care of the stray cats by feeding them and offering them water.  But at some places we encountered some horrible heartbreaking situations. Here in Chefchaouen however I had the impression I shouldn't feel all to bad about the cats living here. In fact, as far as I know, this might be one of the best places in Morocco to live as a stray cat. They sure looked a lot healthier and happier then the street cats of Marrakech and Fez.